Careers
Current Openings
There are no open positions at this time, but please check back often.
AF's achievements depend on people who...
Are passionate about our products and services
Set high standards and work hard to meet them
Focus on finding solutions and achieving results
Value and support all individuals for their diverse backgrounds, experiences, styles, approaches, and ideas
Does that sound like you?
Balancing Work and Life
We live in a fast-paced world where it can be challenging to juggle the demands of work with the priorities of home. That's why AF has initiatives and programs set up to help you manage (and enjoy!) life.
Continuing education and tuition reimbursement
Dependent Scholarship Program
Discounted movie and event tickets, health club memberships, pet insurance, and more
Employee Assistance Program (EAP)
Parental leave for the birth or adoption of a child and adoption expense assistance
Team lunches
Wellness initiatives
The AF Culture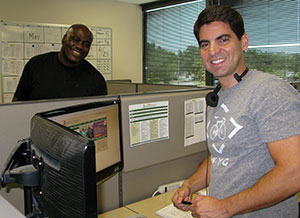 Working at AF, you'll see that everyone is on a first-name basis. The vibe is friendly and supportive. Senior management is accessible and out-and-about in the office. Popcorn is popped daily in the machines in the break rooms, and you can always get a fresh cup of coffee from the Keurig – AF stocks a variety of brews.
So what defines the overall culture at AF?
Service – to our members, our coworkers, and our communities.
AF is the nation's largest arbitration and subrogation services provider. We exist solely to serve our members and are dedicated to providing them best-in-class service. Our members are at the center of everything we do. From our mission statement to volunteer activities and charitable giving campaigns and drives, our employees embody a spirit of service.
As part of the AF Cares program, AF holds a "Casual for a Cause" campaign every year, in which employees are challenged to meet a charitable giving goal. If the goal is made, employees may dress casually for the year – who doesn't love wearing jeans, t-shirts, and sneakers to work? And yes, even our president wears jeans. Since the first campaign in 2010, employees have exceeded the goal every year.
In addition to matching campaign donations, AF also matches employee charitable contributions from $25 to $150 per year to an eligible organization of the employee's choice.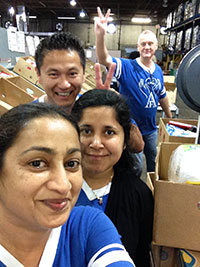 For those who enjoy a hands-on approach, the AF Cares program organizes company-sponsored volunteer days with organizations around Tampa Bay like Feeding America, Lowry Park Zoo, and Paint Your Heart Out, so employees can give back through volunteering – all on company time. AF also provides employees one hour of paid time off for every three hours of personal time used volunteering in the community.
At AF, we achieve results and celebrate when we do. For individual accomplishments, employees may receive "AF Dollars," a monetary award to recognize hard work and success. Company events like family days at Busch Gardens and Tampa Bay Rays games show appreciation for employees' contributions.
We work hard but play just as hard. From Halloween costumes to ugly holiday sweater contests, we don't mind hamming it up for a laugh.
So, interested in joining us? Send us your resume.
Benefits
Medical, Dental, and Vision Insurance
Health Savings Account
Basic Life Insurance and Accidental Death & Dismemberment Insurance
Voluntary Term Life Insurance
Short- and Long-Term Disability Insurance
Flexible Spending Accounts
401k Profit Sharing Plan with Employer Contributions
Paid Time Off
Company-Paid Holidays
For more information, view a summary of benefits.
Questions?
Contact our Human Resources Department at careers@arbfile.org.